The 2023 International Friendship Exchange Program in Lào Cai province
(VUFO) In two days from March 26-27, the Vietnam Union of Friendship Organizations in collaboration with the Provincial Party Committee, People's Council, People's Committee, Fatherland Front Committee and departments, agencies, branches and localities of Lao Cai province organized the 2023 International Friendship Exchange.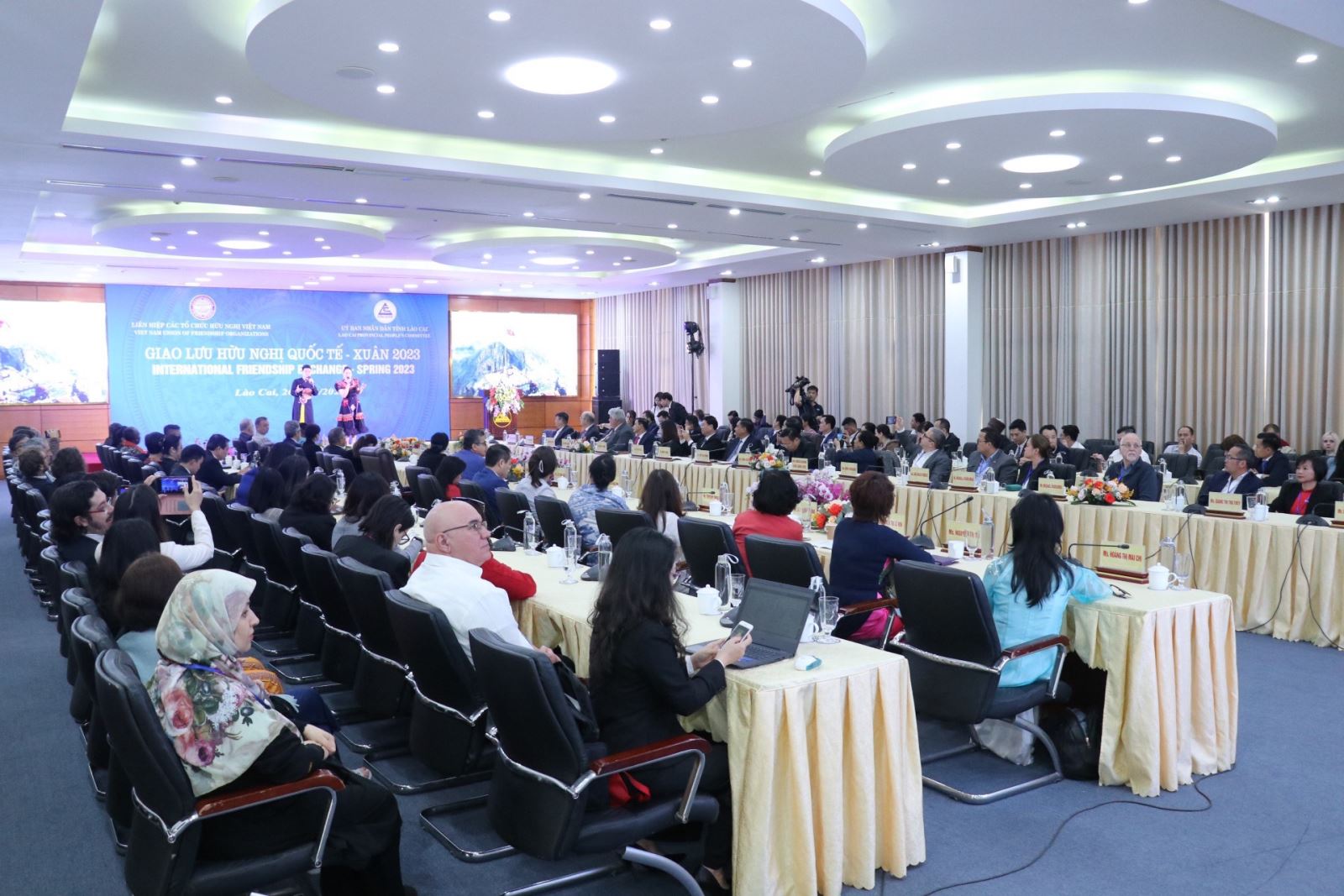 At the event (Photo: Thu Hà)
It has become a tradition that every Spring, the Vietnam Union of Friendship Organizations and a province/municipality invite foreign embassies, NGOs and international organizations to attend International Friendship Exchange, where they can visit historical - cultural relics and scenic spots, interact with local authorities and people to learn more about Vietnam's nature, people and culture and explore cooperation opportunities in those areas.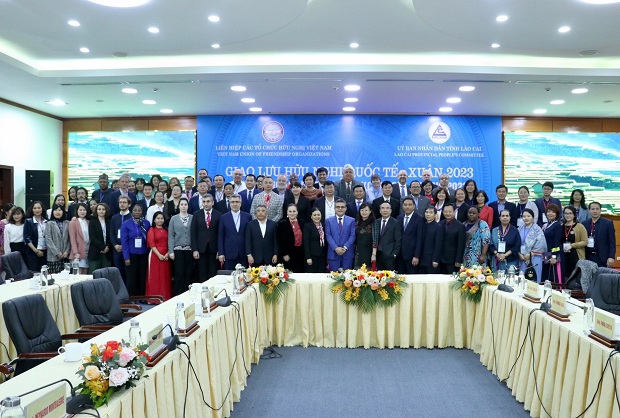 With the participation of nearly 150 delegates including 14 Ambassadors and Chargé d'affaires, diplomats of 34 Embassies in the Diplomatic Corp; 24 representatives of international organizations/foreign NGOs; people representing VUFO's member organizations, some central departments and the media, this excursion showcased the vitality and development potential of Lao Cai, the hospitality and good customs of local people with a view to promoting international exchanges, cooperation and development in trade, investment and tourism with Vietnam in general and with Lao Cai in particular.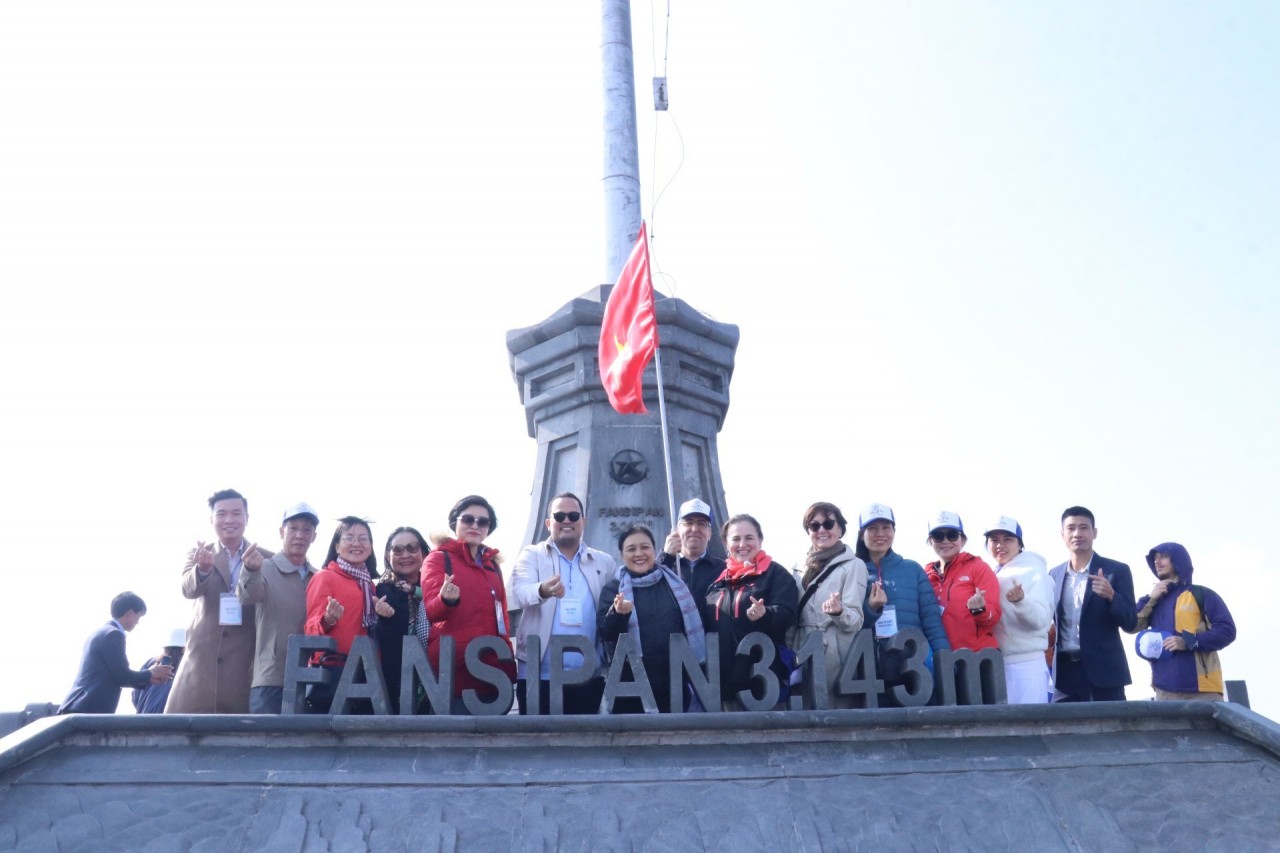 The delegation explore Fansipan (Photo: Thu Ha)
Within the framework of the International 2023 Friendship Exchange program, on March 26, the delegates reached the Fansipan peak at an altitude of 3143m in the Hoang Lien Son mountain range, then attended the Gala Dinner; On March 27, they attended the International Friendship Exchange at the Convention Center of Lao Cai province.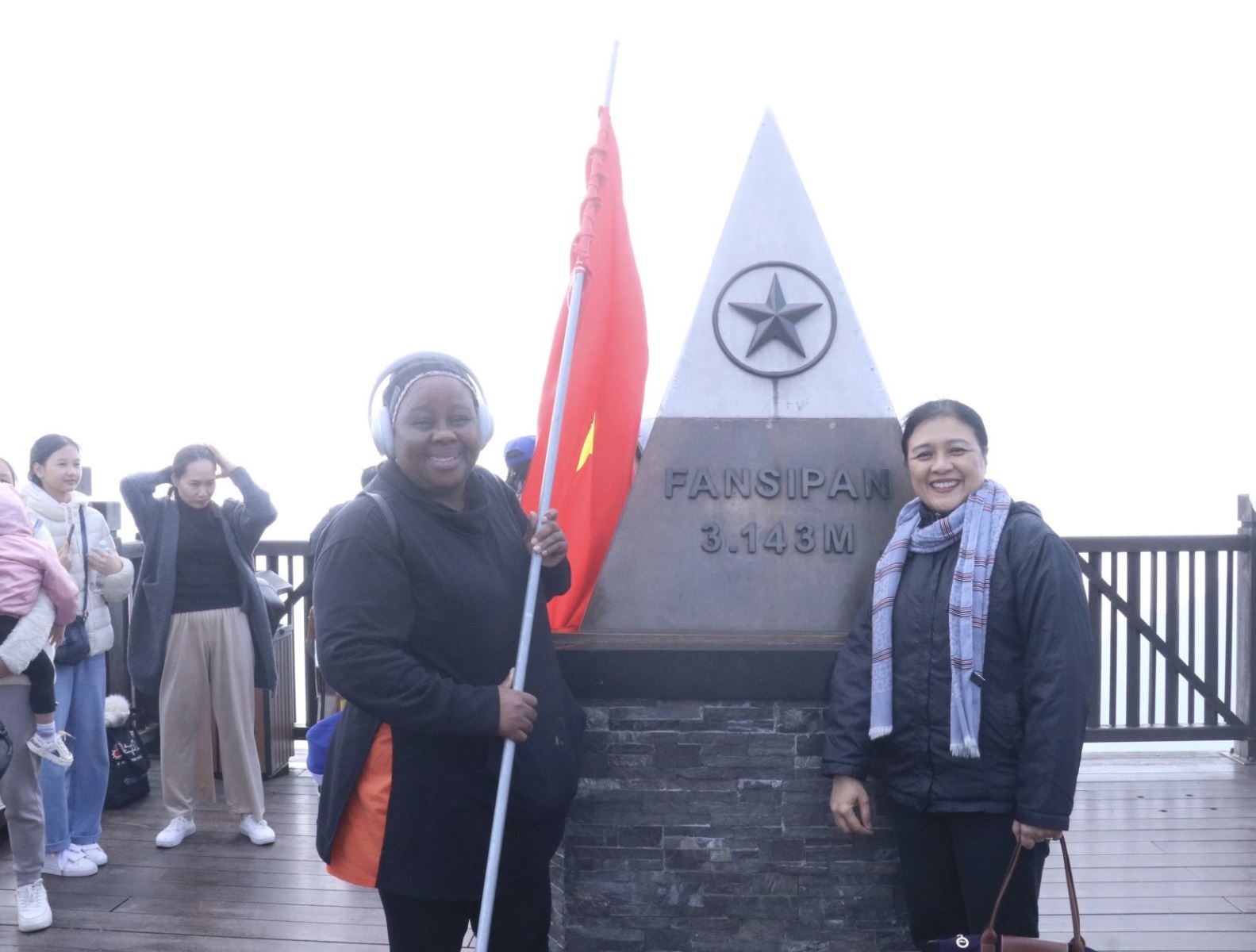 H.E. Ms. Vuyiswa Tulelo, Ambassador of Republic of South Africa and VUFO President Nguyễn Phương Nga pose for pictures next to the Fansipan summit marker (Photo: Thu Ha)
Speaking at the Exchange, Ambassador Nguyen Phuong Nga, President of the Vietnam Union of Friendship Organizations (VUFO), remarked that it was the first time the International Friendship exchange was hosted by Lao Cai province. She believed that the excursion will leave a deep impression on the delegates about the culture, traditions, potential and prospects of Lao Cai people. She hoped that the program would give a boost to Lào Cai's economy and tourism.
Mr. Trinh Xuan Truong, Deputy Secretary of the Provincial Party Committee, Chairman of the Lao Cai Provincial People's Committee assessed that the program is a practical and meaningful activity, creating opportunities for Vietnamese and international delegates to meet and interact with each other, contributing to the development of friendship, understanding and cooperation between the people of Vietnam and people of other countries around the world, promoting the image and beautiful aspects of Vietnamese culture to international friends.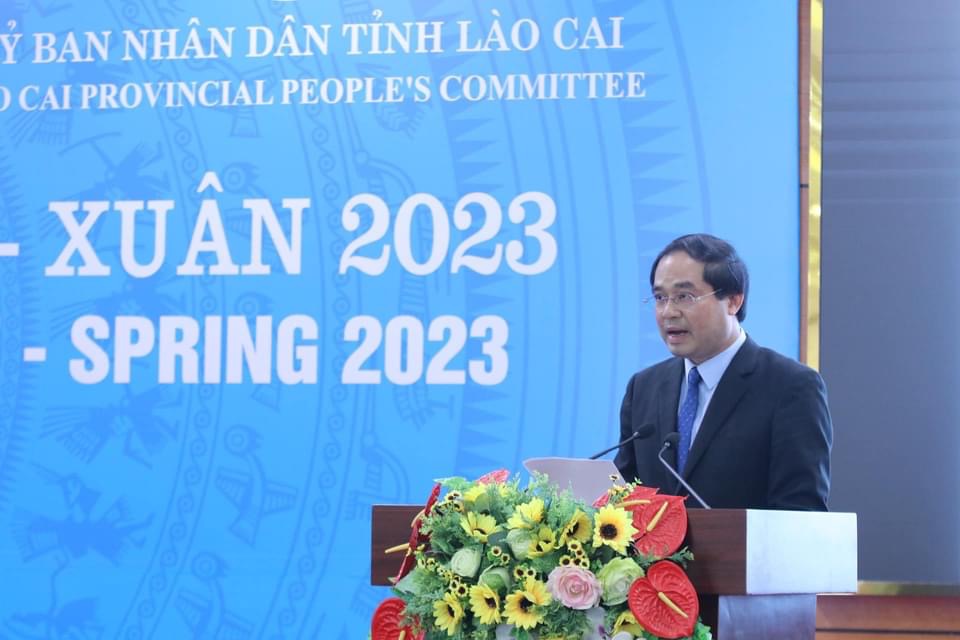 Mr. Trinh Xuân Truong, Deputy Secretary of the Provincial Party Committee, Chairman of the People's Committee of Lao Cai Province (Photo: Thu Ha)
He urged the localities to work closely with VUFO, consolidate existing partnerships and establish new relations with NGOs, foreign embassies, bilateral and multilateral development agencies; proactively implement economic diplomacy, people-to-people diplomacy, study the strategies and directions of partners and donors in order to mobilize suitable resources in line with Vietnam's socio-economic development priorities and orientations.
Mr. Truong called on VUFO, the Diplomatic Corp, the attending agencies and organizations to create a favorable environment and legal corridor for the operations of foreign NGOs as well as for the mobilization of resources for development, to continue and to improve the coordination mechanism between the central and local governments; regularly share information about the operation of NGOs, agencies and associations with localities so that they can quickly reach out to organizations that suit local
The Diplomatic Corp is urged to encourage encourage businesses from their country to explore investment and cooperation opportunities and in Lao Cai and other localities, especially investment projects in green technology, tourism, services, high-tech agriculture, etc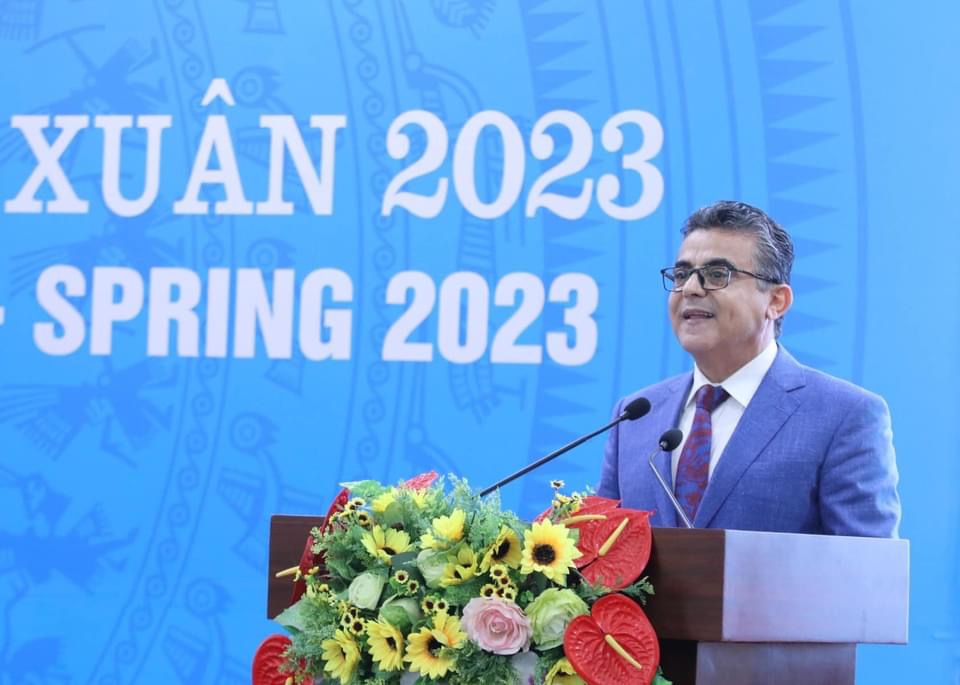 H.E. Mr. Saadi Salama, Ambassador of Palestine to Vietnam, Head of the Diplomatic Corps to Vietnam makes a remarks (Photo: Thu Ha )
Speaking at the Exchange, Ambassador Extraordinary and Plenipotentiary and Plenipotentiary of Palestine in Vietnam, Head of the Diplomatic Corp to Vietnam, Mr. Saadi Salama said: "We have witnessed the strong development of Lao Cai and believe that in In the not too distant future, this remote land will fulfill the goal of becoming a dynamic and modern economic center in the Northwest region, an attractive tourist destination of international stature so that more and more tourists know, explore and enjoy the charming scenery and unique cultural space in Lao Cai".
Ambassador Saadi Salama emphasized that he and international friends will bring with them beautiful memories of Lao Cai, the places they have visited and the kind and friendly people they have met, as a poem goes:
"Lao Cai, the young city we love
At the frontier of the country
Where the Red River flows to the land of Viet Nam
Its water the color of passion, its soils heavy with silt..."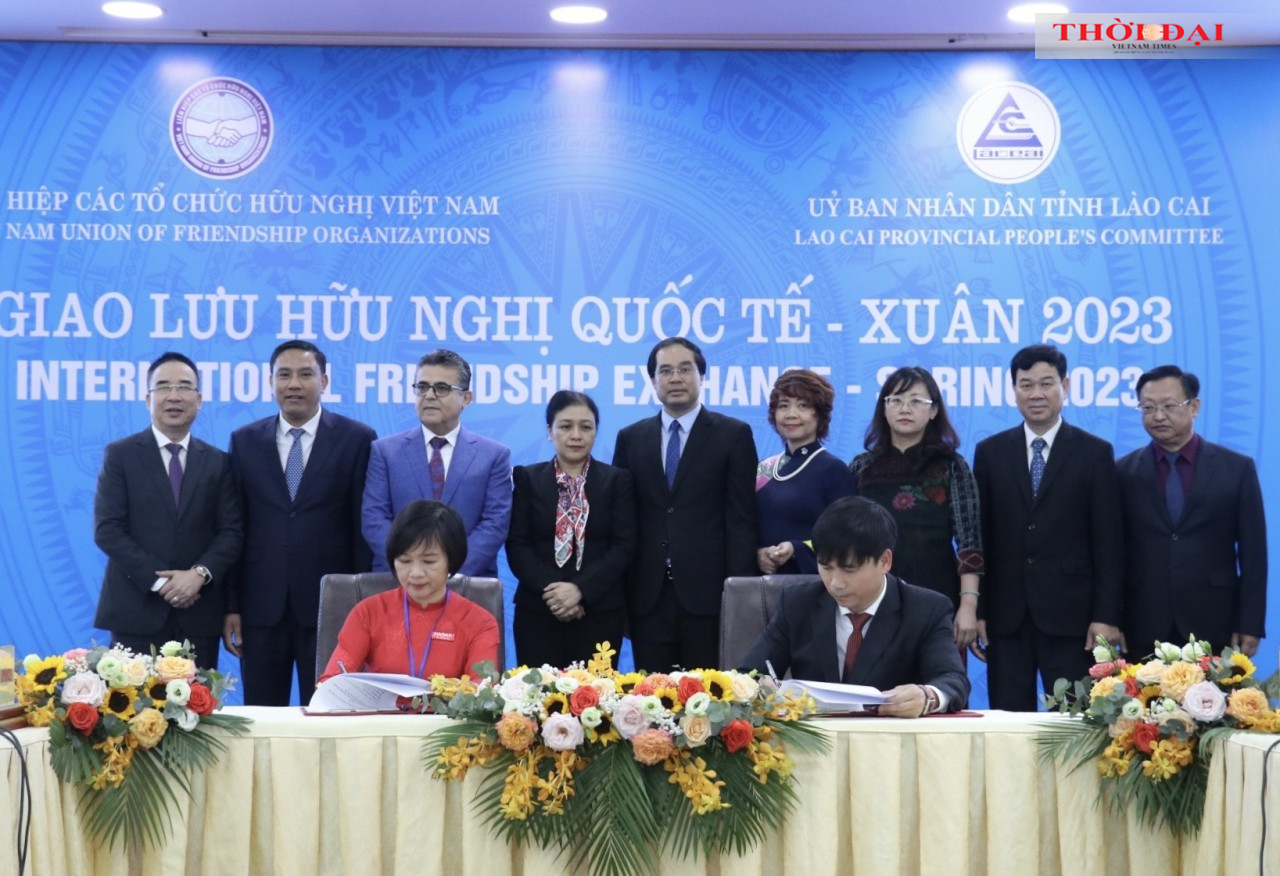 Mr. Giang Thi Thuy Thuy, Chief Representative of Hagar International/Switzerland and Mr. Pham Nam Hong, Vice Director of the Department of Foreign Affairs of Lao Cai Province sign a memorandum of understanding to aid Lao Cai in the future (Photo: Thu Ha).
On this occasion, six foreign NGOs including: Adoptionscentrum/ Sweden, Aide et Action (AeA)/France, Enfance Partienariat Vietnam (EPVN)/France, Hagar International/ Switzerland, Habitat for Humanity International (HFHI)/USA, Netherlands Development Organization (SNV)/Netherlands pledged US$2 million in aid for Lao Cai province. In addition, two foreign NGOs, including EPVN/France and Espoir Pour un Enfant/France awarded a number of scholarships to disadvantaged students in Lao Cai province with a combined value of more than 3,000 USD. The delegates also discussed measures and policies to improve the effectiveness of cooperation, investment and aid for Lao Cai.
Over the recent years, as a focal point in Foreign NGOs relations and aid mobilization, the Vietnam Union of Friendship Organizations has been assisting about 400 NGOs operating in Vietnam to implement humanitarian and development programs/projects, with disbursement reaching 220-280 million USD/year. Currently, in Lao Cai, there are 34 organizations working with partners to implement programs/projects in a number of fields such as health, education, people's livelihoods, and solving social problems. 
Tuyet Nga