Vietnam makes series of recommendations at 146th IPU Assembly
Permanent Vice Chairman of the National Assembly (NA) Tran Thanh Man on March 13 (local time) made a host of Vietnam's recommendations concerning an aspiration for a world of peace, development and prosperity at the plenary session of the ongoing 146th the Inter-Parliamentary Union (IPU) Assembly in Manama, Bahrain.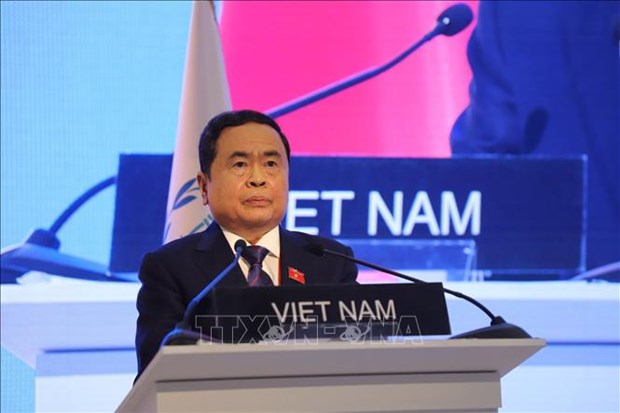 Permanent Vice Chairman of the National Assembly (NA) Tran Thanh Man speaks at the event (Photo: VNA)
He recommended member parliaments make efforts to uphold the role of observing and ensuring international law, especially the United Nations (UN) Charter, to contribute to preventing war and eliminating inequality in international relations; and to promote the role of cooperation and dialogue mechanisms, enhance understanding, build mutual trust and respect, and jointly find peaceful solutions to regional disputes and pressing global issues.

Man said it is necessary to ensure the implementation of democracy, equality, and non-discrimination on gender, ethnicity and religion in the fields of politics, economy, culture, society, labour, health care and education; and to share experiences in ensuring social security and living standards of the people, particularly workers, the poor, the vulnerable, and those heavily affected by diseases.

He went on stressing the need to strengthen solidarity, international cooperation, attach importance to connectivity in diversity, develop infrastructure to narrow the development gap, and promote green growth, energy transformation, digital transformation, innovation, and inclusive growth.

He held that boosting public-private cooperation and coordination among countries will help realise the Sustainable Development Goals, and promote joint works in response to global issues such as climate change.

The aim of "peaceful coexistence and inclusive societies" is especially meaningful given that the world is facing huge and unpredictable changes, requiring efforts and participation of the international community and legislative bodies, Man said.

He affirmed that Vietnam steadfastly and consistently implements its foreign policy of independence, self-reliance, peace, friendship, cooperation and development, and diversification and multilateralisation of external relations.

Vietnam makes contributions to peace, friendship, cooperation and development in the spirit that the country is a reliable friend and partner, and an active and responsible member of the international community, Man said.

He stated Vietnam supports initiatives that contribute to peace and stability in the region and the world, as well as the settlement of conflicts and disputes by peaceful means without the threat or use of force in compliance with international law and the UN Charter./.
Q.Hoa t.h / TTXVN