Vietnam stresses importance of ethical standards in handling water resources
Vietnamese Deputy Prime Minister Tran Hong Ha has highlighted the need to establish a social ethical standard in relations and behaviours regarding water resources, especially transboundary water, in accordance with the principles of fairness, equality, rationality, and respect for the rights and interests of other countries in river basins.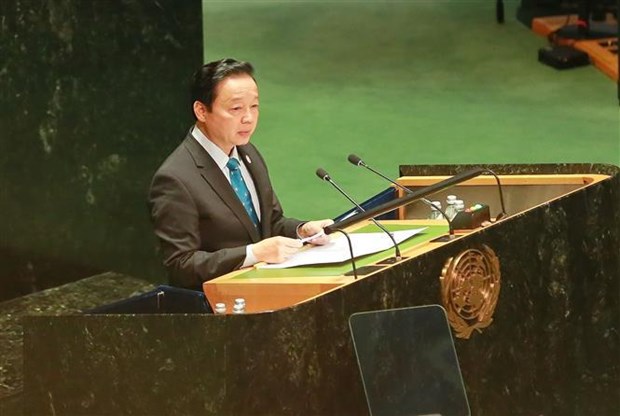 Deputy Prime Minister Tran Hong Ha (Photo: VNA)
He made the call when addressing the opening session of the UN 2023 Water Conference in New York on March 22.
Sharing concerns about the fact that nearly one-third of the world's population are living in countries with water stress or scarcity, the Deputy PM stressed that the water agenda should be given a prominent position in sustainable development, alongside climate change, socio-economic development and environmental development. 
        
He said a global science-based legal framework is needed to orient and coordinate the sustainable exploitation, use, and restoration of water resources, and urged the formation of global and regional science and technology centres on water, along with a monitoring network and a database on water, and plans for the exploitation, use and improvement of quality of water for transboundary rivers.
Ha also proposed establishing UN organisations and agencies such as a scientific committee on transboundary water and an international river council, setting up a transboundary river basin financial fund or expanding the river basin financing function for the Global Environment Facility. 
Talking to other participants at the conference, Deputy PM Ha said that Vietnam has been implementing many policies and solutions to strengthen the effective management, protection and sustainable exploitation and use of water resources, contributing to ensuring the implementation of sustainable development goals in accordance with the 2030 Agenda.

Vietnam has continuously worked to perfect and strengthen the institutional and policy framework to ensure people have access to clean and hygienic water; and commits to ensuring maximum benefits that water brings while minimising water-related harms, thus contributing to economic development and improvement of life quality.

Specifically, 100% of major river basins in Vietnam have their water resources regulated to address water scarcity through water resource planning. By 2030, all households in urban areas will have access to clean water in accordance with standards, Ha stated.

He also affirmed Vietnam's pledge to maintain cooperation with other countries, actively participate in action programmes and collaboration initiatives on water and water security, and share information, particularly with countries with shared water sources, contributing to global efforts for a world of sustainable development.

The UN Water Conference, held for the first time after 46 years, is an opportunity for countries to discuss, evaluate, share experience and results of implementing the International Decade for Action "Water for Sustainable Development"; seek new initiatives, and make global commitments and action plans./.   

Q.Hoa t.h / VNA