Fort Worth Sister Cities Visit
(Vietpeace) The U.S. Fort Worth Sister Cities International headed by Chairwoman Ann Rice visited VUFO on November 10th, 2014.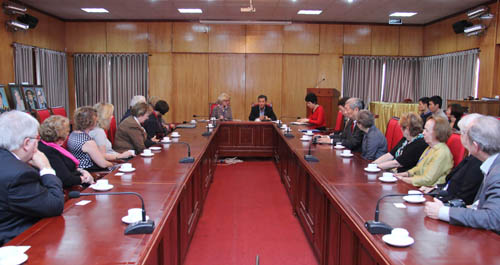 VUFO Vice President and Secretary General Don Tuan Phong welcomed the delegation and briefed on VUFO's missions in promoting peace, solidarity and calling for foreign NGO assistance to poverty reduction and development cooperation.
During the visit to Vietnam, the first for Ann Rice and many other members, they gathered a better understanding of Vietnam and explored cooperation possibilities in various fields such as education, culture and business.
At the meeting, both sides discussed measures to bring Vietnam to Fort Worth and other cities in the United States, contributing to strengthening the relationship between the peoples of the two countries.
Fort Worth Sister Cities International is a non-profit organization working to enrich the community through international education, exchange and commerce. The organization offers its members opportunities to attend international workshops and explore the culture of other nations.
Phan Thanh Mỹ