Paccom training to help foreign NGOs' operation
More than 180 foreign NGOs' administration officers have attended a training course on administration procedures held by the People's Aid Coordinating Committee (PACCOM) in Hanoi between August 13th and 15th.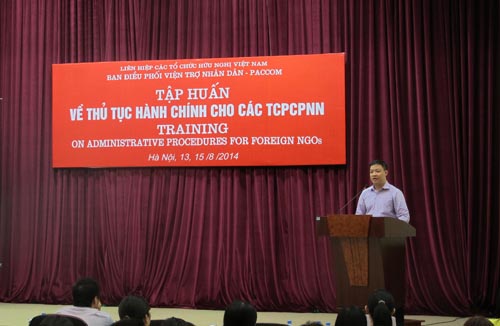 Nguyen Ngoc Hung, Paccom Deputy Director, said a toolkit guiding on administration procedures for foreign NGOs was developed in October 2013, providing a summary and explaining the government's Decree 93/2009/ND-CP on Management and Utilization of Aid from foreign NGOs, and Decree 12/2012/ND-CP on Registration and Administration of foreign NGOs in Viet Nam. 
The training aimed at helping foreign NGOs get access to regulations related to their operation and facilitate their humanitarian projects in Viet Nam, Hung said. 
The participants listened and discussed various procedures, including visa/residence card, work permit, project appraisal/approval, tax exemption and others. They also touched on how to make administration procedures more favorable to foreign NGOs operating in Viet Nam. 
At the closing session, Mr. Hung said he hoped the training had helped equip foreign NGOs with adequate information on key procedures for Viet Nam operation. He stressed that PACCOM will always try its best to support foreign NGOs in their humanitarian activities in the country. 
My Phan