Project Vietnam Foundation Opens 2014 Summer Camp
(Vietpeace) The Project Vietnam Foundation (PVF) has launched its 2014 Summer Camp on June 23rd, 2014 in Hanoi.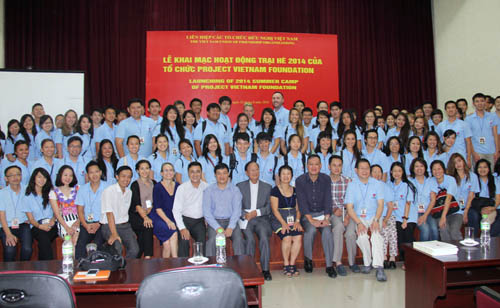 Present at the launching ceremony were Mr. Nguyen Ngoc Hung, Deputy Director General of the People's Aid Coordinating Committee (PACCOM); Ms. Dinh Quynh Kieu, Director; Mr. Pham Truong Giang of the State Commission on Overseas Vietnamese; Mr. Nguyen Ba Tinh, Vice President and Secretary General of the Vietnamese Young Doctors Association; representative from the US Embassy to Hanoi and more than 150 PVF volunteers. 
Since its establishment in 1996, PVF has been organizing numerous trips for doctors, nurses who are mostly Vietnamese Americans to join humanitarian work in Vietnam. About 20 doctors, nurses and dentists and over 100 volunteers take part in PVF's  2014 Summer Camp to provide medical examination and child care training for teachers of pre-schools and primary schools. The activity took place in several communes of Hanoi's Ba Vi district from June 26
th
to July 1
st
, 2014. 
Welcoming campers, Mr. Nguyen Ngoc Hung said that the assistance from foreign non-governmental organizations in general, and PVF in particular, not only helps Vietnamese children, but also contributes to promoting friendship and cultural exchange between the people of Vietnam and other countries. 
On behalf of PVF, Ms. Dinh Quynh Kieu expressed her gratitude to the Vietnam Union of Friendship Organisations and PACCOM for continuous support to PVF's activities in Vietnam in recent years. Since 2007 PVF has started the Summer Camp program to attract volunteer students from many countries to participate in humanitarian, educational, medical and social works in Vietnam. 
On this occasion, PVF has given a donation of 20 medical cabinets worth nearly 50 million Vietnamese dong to fishermen in the central province of Binh Dinh. 
Thanh My