Compassion Houses handed to Long An poor people
The Long An Union of Friendship Organizations and the Thanh Hoa District People's Committee in cooperation with South Korea's Hanwha Life Insurance have handed 10 compassion houses to the local poor people on July 15.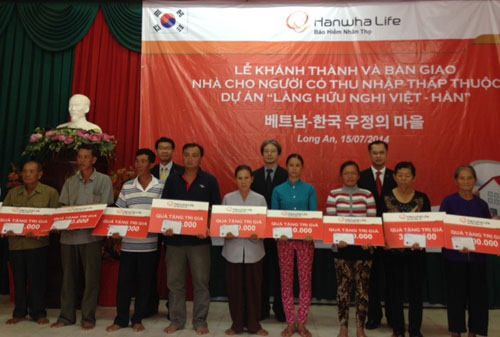 The Vietnamese attendants at the ceremony included Mr. Tran Huu Phuoc, Vice Chairman of the Long An provincial People's Committee, Mr. Le Hung Quoc, President of the Ho Chi Minh City Union of Friendship Organizations, representative from VUFO Representative Office in Ho Chi Minh City, senior officials at the Long An Union of Friendship Organizations along with Thanh Hoa district leaders and beneficiaries. 
South Korean Consulate General in Ho Chi Minh City, Hanwha Life Insurance executives and officials from South Korea's Asian Cultural Exchange Foundation (ACEF) and the ChildFund Korea were present at the ceremony. 
Hanwha Life has provided 64,000 USD  to the Vietnam – Korean Friendship Village project to help build 40 compassion houses in six southern provinces, namely Ca Mau, Kien Giang, Vinh Long, Long An, Binh Dinh and Dak Lak. The 10 houses donated to Long An have a value of 1,600 USD each. This socially meaningful and humanity project is to help local poor families eradicate poverty and settle their lives in the long run. While providing houses to the elderly and the disabled, the project also gives children opportunities to continue going to school. 
Speaking at the ceremony, Vice Chairman of the Long An provincial People's Committee Tran Huu Phuoc expressed his gratitude to Hanwha Life Insurance and South Korean friends for the kindness in humanity works that ensured a good implementation of the province' social policies as well as opened a brighter future for poor households. 
The Long An government has granted awards to ACEF, Hanwha Life Insurance and ChildFund Korea in recognition of their contributions to low-income residents of the province. 
My Phan