Meetings with American and European NGOs
(Vietpeace) A meeting with American non-governmental organizations (NGOs) was held by the People's Aid Coordinating Committee (PACCOM) on July 21 in Hanoi to exchange information and promote NGO's fundraising for Vietnam, with the attendance by 25 representatives from 20 Vietnam-based NGOs.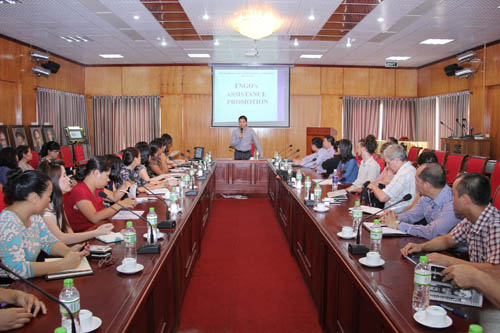 On behalf of the Committee for Foreign NGO Affairs, PACCOM's Director General Phan Anh Son welcomed and thanked American NGOs for their assistance to Vietnam's socio-economic development in recent years. Son said PACCOM was committed to providing the best support for foreign NGOs operating in the country.
PACCOM also shared information on the development of foreign NGOs in Vietnam in the 2003-2013 period, the fundraising achievements and cooperation between PACCOM and foreign NGOs. The international NGO community in the country has extended significantly by both the number and their aid value. As many as 960 organizations have relations with Vietnam now, jumping from 540 in 2003. Their aid value has tripled consistently from 100 million USD in 2003 to over 300 million in 2013. Health care is the first priority among the areas of cooperation, taking up more than 34% of the total aid value. 
PACCOM's next target is to spread the aid promotion activities to businesses, governmental organizations, universities and funds, PACCOM's Deputy Director General Nguyen Ngoc Hung said. 
Representatives from American NGOs also shared information on their fundraising for humanitarian projects in Vietnam and discussed future cooperation. On the same day, PACCOM also held a similar meeting with NGOs from Europe. 
My Phan