Computer class hand - over in Thanh Oai and Dan Phuong, Ha Noi
Vietpeace)- The ceremony of computer class hand-over was co-organised by the Vietnam Union of Friendship Organizations (VUFO), Global Civic Sharing (GCS) and Samsung Life Insurance in Dan Phuong and Thanh Oai districts of Hanoi on April 22nd.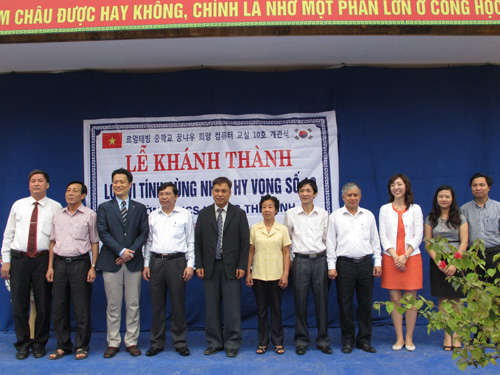 The ceremony attracted the participation of representatives from VUFO, Samsung Life Insurance and leaders of the two districts.
Each school was equipped with a computer class of 30 computers, 30 sets of tables and chairs, 1 projector and 1 printer, which will help create a better condition for over 1,200 students and teachers to develop their learning skills.
This is the output of the agreement on "Hope Computer Class" Project between VUFO, Samsung Life Insurance and GCS signed on September 9
th
, 2013 in Hanoi.
Samsung Life Insurance will donate computer classes for 9 other high schools by June 2014. Workshops on enhancing  IT skills for teachers and competitions on IT skills for students of recipient schools have been scheduled.
Thanh My