Strengthening Cooperation between Thanh Hoa Province and INGOs
(VietPeace) – The Conference on Strengthening Cooperation between Thanh Hoa Province and INGOs was co-organized by the People's Aid Coordinating Committee (PACCOM) and the People's Committee, the Department of Foreign Affairs and the Union of Friendship Organizations of Thanh Hoa Province on March 28th in Hanoi.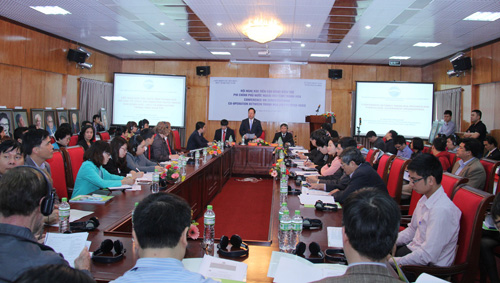 It was co-chaired by Mr. Vu Xuan Hong, President of the Vietnam Union of Friendship Organizations(VUFO); Mr.  Nguyen Dinh Xung, Vice Chairman of Thanh Hoa People's Committee Mr.  Hoang Van Hoang,  Executive Deputy Secretary of Thanh Hoa Provincial Party Committee, President of Thanh Hoa Union of Friendship Organizations; and Mr. Phan Anh Son, and PACCOM Director General.
Representatives from other agencies of Thanh Hoa People's Committee and more than 35 INGOs operating in Viet Nam were taking part.
Addressing at the Conference, Mr. Vu Xuan Hong said that VUFO has set up an Action Plan to implement the outcomes of the 3
rd
International Conference on Viet Nam and Foreign NGOs Conference conclusions, among which strengthening cooperation with INGOs and aid promotion are key assignments.
"This Conference is one of the follow-up activities in implementation of the Action Plan", Mr. Hong added.
Mr. Hong suggested Thanh Hoa Province should clearly identify its needs towards foreign aid projects, as well as policies to support INGOs.
He hoped there would be more INGOs aid projects into Thanh Hoa Province after the Conference.
Mr. Nguyen Dinh Xung briefed on the provincial socio-economic situations and challenges, especially in mountainous districts with a hope to call for INGOs concerns to help people with difficulties.
Participants discussed and shared the provincial difficulties and needs for aid and especially the challenges to INGOs when operating in mountainous areas.
At the conclusion, Mr. Phan Anh Son affirmed that PACCOM will continue to cooperate with INGOs in survey and assessment in Thanh Hoa Province in order to help access to INGOs' sources of aid in the coming time.
PACCOM