Association hailed for helping strengthen Vietnam-France friendship
Vietnamese Ambassador to France Dinh Toan Thang had a meeting on September 27 with a delegation from the France-Vietnam Friendship Association (AAFV) led by its President Gérard Daviot, during which the ambassador hailed the association's contributions in strengthening friendship and cooperation between people of both countries.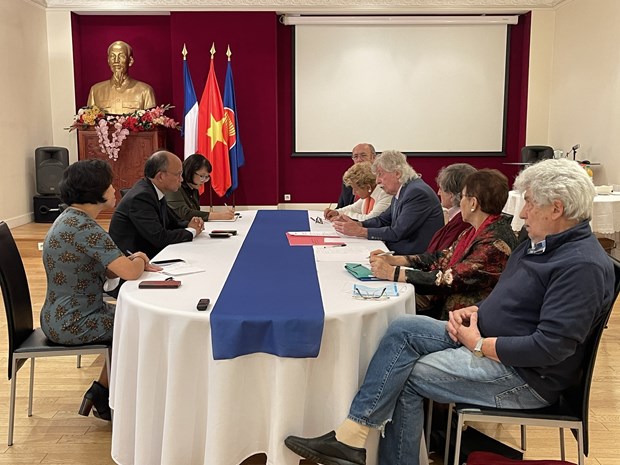 An overview of the meeting (Photo: VNA)
Affirming that the AAFV plays the key role in friendship, solidarity and cooperation associations with Vietnam in France, Ambassador Thang pledged to support activities of the association.

He expressed his hope that members of the association will continue to walk hand in hand in the current tough time as well as in the national construction and development in the future.

For his part, Daviot briefed the Vietnamese Ambassador on major activities of the association recently, noting that it has conducted a number of activities to support the poor, people from ethnic minority groups and Agent Orange/dioxin victims in Vietnam.

The association has also supported Tran To Nga's lawsuit against companies that manufactured and supplied toxic chemicals for the US Military during the war in Vietnam, he said, adding that various friendship and exchange activities between people of Vietnam and Frances as well as activities to promote the image of Vietnam in France have also been held.

The AAFV affirmed that in the time to come, he will continue strengthening activities showing support and solidarity with Vietnam, including those assisting Vietnamese people in fighting COVID-19 pandemic, dealing with climate change and human resources training.

The two sides discussed a number of issues of mutual concern as well as future plans to further lift up bilateral ties between Vietnam and France. On the occasion, the AAFV leader invited Ambassador Thang to attend the congress of the AAFV's executive committee. The diplomat accepted the invitation.

The AAFV was formed in 1961 with an aim to supporting Vietnamese people in the struggle for national independence. The association has always stood by Vietnamese people in the cause of national construction and development. With a wide network covering all French cities and provinces, diverse activities by the association have helped connect and gather French friends who love Vietnam across the European country./.
Q.Hoa t.h / VNA