Cultural Activities Mark 50th Anniversary of Vietnam-Chile Diplomatic Ties
The Vietnamese Embassy in Chile has co-organised a range of cultural activities to mark the 50th anniversary of bilateral diplomatic ties.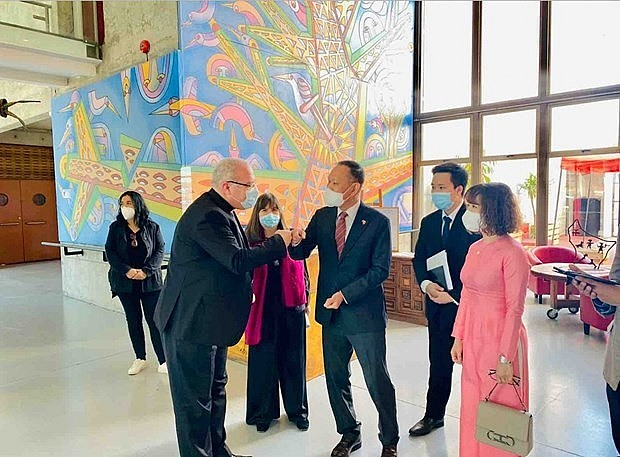 The Vietnamese Embassy in Chile, in collaboration with authorities of Recoleta district in Santiago, the Chile-Vietnam Cultural Friendship Institute, and the Chilean artists' association, organised a painting exhibition featuring President Ho Chi Minh and the relations between the two countries.
Winning works of a painting contest themed "Vietnam-Chile: 50-year friendship" were also displayed.
In his remarks, Vietnamese Ambassador Pham Truong Giang said the 50-year friendship has been cultivated by generations of leaders and people of the two countries, expressing his delight at new developments in bilateral cooperation across several spheres.
The expansion of cultural exchange will contribute to strengthening mutual understanding, bringing the two countries closer and tightening their friendship, he said.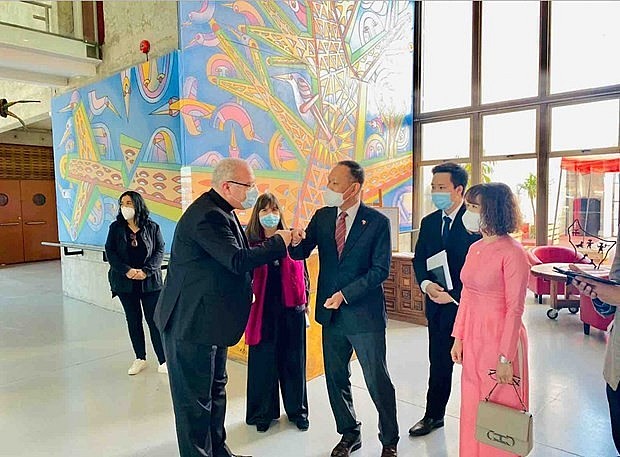 Vietnamese Ambassador Pham Truong Giang welcomes guests to the exhibition. Photo: Vietnamese Embassy in Chile
The ambassador said he appreciated the response and participation of Chilean artists, and thanked local agencies and organisations for their coordination in organising the painting contest.
Local authorities and representatives from the Institute of Culture and the Chilean artists' association spoke highly of the embassy's initiative to launch the contest that attracted the participation of nearly 100 Chilean artists.
On behalf of the winners, Painter Francisco Sandoval Cornejo, said the image of President Ho Chi Minh and the unyielding spirit of the Vietnamese people had left a deep impression on many Chileans, especially those born in the 1950s-1960s.
Vietnam is a symbol of a good friendship and a trustworthy partner in different fields, the artist said.
In terms of economic cooperation, since the Vietnam – Chile free trade agreement took effect in 2014, their two-way trade grew 300% to US$1.2 billion last year.
Vietnamese goods available in Chile include apparel, electronic devices, farm produce and seafood.
Chile's production materials and traditional goods like wine, fresh fruit, and salmon have gained the favor of Vietnamese consumers.
Q.Hoa t.h / Thoidai