For Agent Orange Victims, the "Wounds of War" Still Ache
Public diplomacy will continue to help alleviate the pain of Agent Orange victims in Vietnam, said Nguyen Phuong Nga, president of the Vietnam Union of Friendship Organizations (VUFO) in the interview with Vietnam Times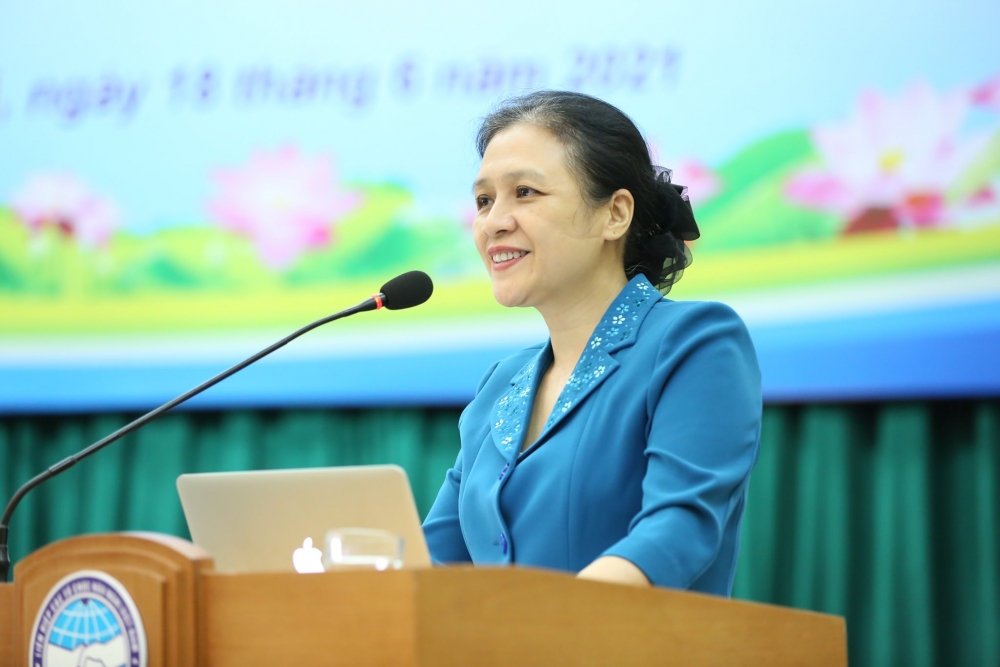 Nguyen Phuong Nga, president of the Vietnam Union of Friendship Organizations (VUFO). Photo: Thoi Dai
Could you please share some thoughts on the support of foreign countries to help Vietnam overcome the consequences of toxic chemicals post-wartime?
For almost 10 years since 10 Aug. 1961, the US military had been spraying toxic chemicals, mainly Agent Orange/dioxin across many localities in Vietnam, leaving disastrous consequences for people and the environment. 4.8 million Vietnamese have been exposed; about 3 million people are victims of incurable diseases, passing genetic diseases to their offspring. This is considered the largest and most catastrophic chemical war in human history, and its consequences continue to this day.
The war has ended for over four decades, but the wounds of war are still aching. Millions of people, including children, are suffering both physical and mental pains. These pains are unforgettable for Vietnamese people and those supporting peace around the world.
Along with efforts to overcome the consequences of war and Agent Orange from the Party and State, agent orange victims have also received valuable support from foreign friends and the overseas Vietnamese community. Notable campaigns include researching the impacts of dioxin on Vietnamese people and the environment, bringing the serious consequences of agent orange to the public, among others.
In 2009, the World Peace Council (WPC) decided to August 10 every year as the Day for Vietnamese Victims of Agent Orange. The International Association of Democratic Lawyers has organized many forums to demand that the US Government be responsible for the agent orange disaster in Vietnam, including the International Peoples' Tribunal of Conscience in Paris in May 2009. In 2016, the Hague-based Monsanto Trial Court affirmed that the US's use of agent orange in Vietnam war was a crime.
There are many touching stories about the tireless efforts of international friends to support Vietnam.
Two American former politicians Bob Filner and Barbara Lee had submitted to the US Congress 5 bills requiring the US Government to participate in overcoming the consequences of agent orange/ dioxin in Vietnam. Many parliamentarians of the UK, Belgium, and New Zealand have made petitions to demand that the US Government pay compensation for Vietnamese victims.
Many domestic and foreign organizations, NGOs, individuals have helped Vietnam in launching programs and projects to support demining of bombs and mines, decontaminating areas exposed with agent orange, giving financial and medical care to victims. The UNDP has assisted in implementing the dioxin-contaminated soil treatment program at Phu Cat airport.
Many American NGOs have been actively provided valuable resources for the handling of agent orange consequences in Vietnam. In 1994, the Ford Foundation sponsored Hatfield Consultants to work with the Special Committee to investigate the Agent orange Consequences to research the impact of agent orange in Vietnam.
Hatfield's research works are considered the most comprehensive one on Agent Orange impacts in Vietnam.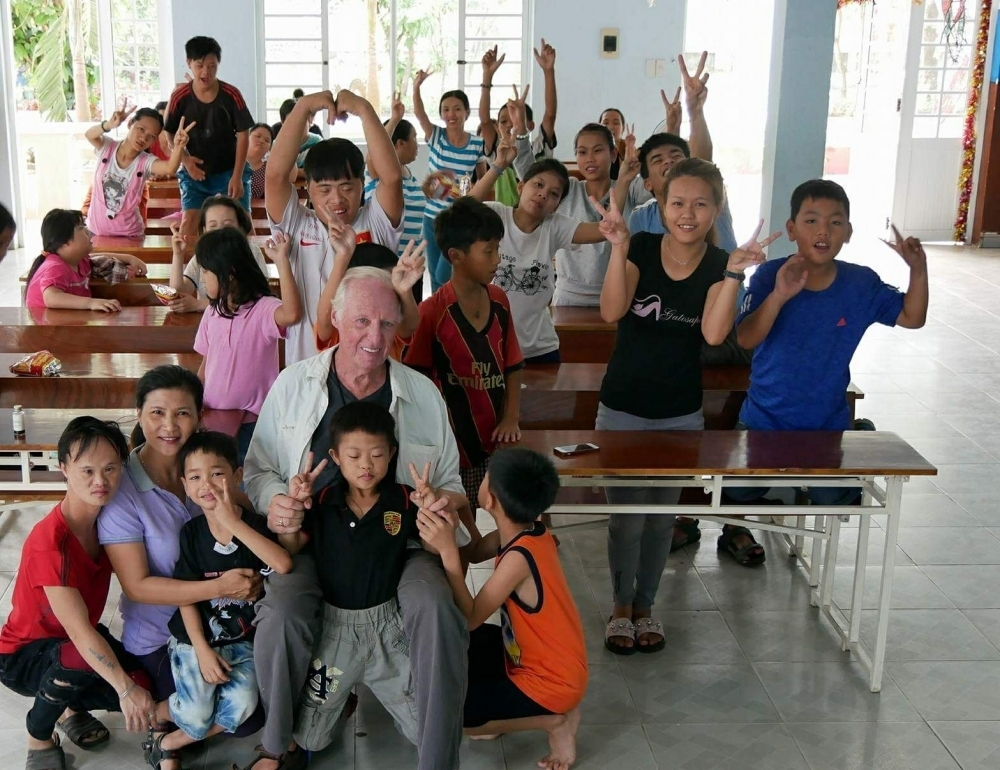 Matthew Keenan, the only American agent orange victim living in Vietnam, takes photo with children at Da Nang Agent Orange Victims Association (DAVA). Photo: DAVA
In the 2018 – 2020 period only, total funding from 40 foreign NGOs amounted to US$ 15.8 million. The money has been allocated to a number of campaigns.
The great and practical support of international friends has made an important contribution in encouraging the agent orange victims, as well as helping foreigners understand more about the agent orange disaster.
From a sensitive and controversial topic, agent orange has been officially mentioned in the discussions and statements of US and Vietnam's senior leaders. The US government has committed to finance Vietnam millions of dollars through dioxin decontamination and disabled people assistance programs.
The 60th anniversary of the Agent Orange disaster is an opportunity for us to express our deep gratitude to the people of other countries, international organizations, foreign NGOs and Vietnamese compatriots.
What do you think about the role of people's diplomacy in mobilizing the world to overcome the consequences of toxic chemicals post-wartime in Vietnam?
It plays an important role.
VUFO and its member organizations at the central and local levels have worked closely with Vietnamese people's organizations to actively mobilize the world's people through many effective activities. Some of them are arranging and welcoming international delegations, especially veterans, parliamentarians, scholars, students, charity and humanitarian organizations of the US to visit Vietnam to work on agent orange–related programs; visiting medical facilities treating and caring for agent orange victims; discussing legal measures to demand compensation for Vietnamese victims, among others.
Such activities have raised foreigners' awareness, including Americans, about the serious consequences of agent orange in Vietnam, thereby mobilizing international support.
A Japanese agent orange victim took part in the 2018 Marathon Tournament in HCMC. Photo: Thoi Dai
Can you tell us what VUFO will do to continue to mobilize international support to Vietnam in the future?
Over the past six decades, the Vietnamese people have suffered the catastrophic consequences of Agent Orange. There are still many contaminated places left untreated and many victims and their offspring who need help.
Overcoming the consequences of agent orange/ dioxin has great political, economic, cultural, social and scientific significance, not merely a humanitarian issue. Resolving this issue is a moral and ethical responsibility.
It will help to heal the wounds of war and thereby enhancing political trust and promoting the development of the two countries relations. Supporting agent orange also ensures the achievement of sustainable development goals, ensuring no one is left behind. It also contributes to the common efforts of the world's people to prevent the risk of chemical war, protecting peace.
As a core force of people-to-people diplomacy, one of the three pillars of Vietnam's diplomacy, VUFO will endeavor to cooperate with the Vietnam Association of Agent Orange Victims (VAVA), Vietnamese people's organizations, ministries, local branches and international partners to continue to mobilize international support to overcome agent orange consequences.
Future endeavours will continue to focus on clarifying and helping Vietnamese people and foreigners understand the agent orange disaster, promoting treatments, improving the victims' lives. I believe that international friends will continue to accompany the Vietnamese people in their efforts to ease the pain of war and Agent Orange.
Q.Hoa t.h / Thoidai