Meeting on Typhoon Wutip emergency relief for Central provinces of Vietnam
(VietPeace) The Vietnam Union of Friendship Organisations (VUFO) hosted a meeting with INGOs on Emergency Relief for Typhoon Wutip victims in Vietnam's entral provinces October 7th, 2013 in Hanoi.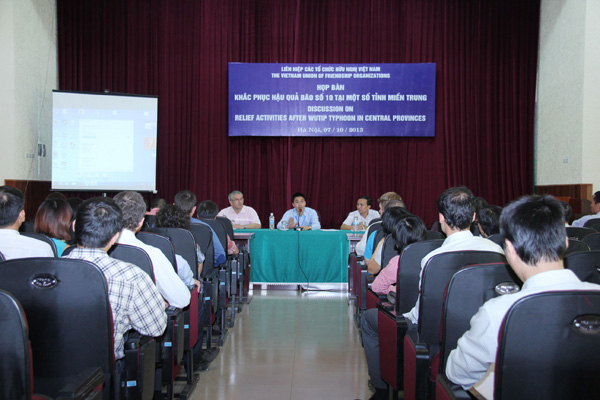 Typhoon Wutip swept the central part of Vietnam from October 1st-3rd, causing heavy losses of life and property. According to the report by the Standing Office of the Central Committee for Flood and Storm Control (CCFSC), up to October 4th, there were 14 deaths, 224,000 houses were ruined, thousands of hectares of crop were damaged, local infrastructures were destroyed, making up an economic loss of hundreds of billions VND.
As soon as the typhoon hit Vietnam, VUFO in collaboration with the Disaster Management Working Groups of INGOs operating in Vietnam sent 2 joint teams to rapidly make assessment on actual damages, immediate need of relief and measures for reconstruction in Quang Binh and Quang Tri.
At the meeting, participants were provided with statistics on damages in Quang Binh and Quang Tri, and supports by INGOs.
On basis of above-mentioned report, VUFO called for support/aid to local residents from INGOs, donors, development cooperation agencies. Top priorities are: food, medicine and medical equipment for epidemic prevention, daily demand necessities, household appliances, plants breeding animals for production recovery, houses and schools repairing, shool supplies for pupils...
In response to VUFO's call, several INGOs as Red Cross International, Plan International, ADRA, SCI have made commitments to help disaster victims in the central provinces soon.

Thanh Mỹ