Welcoming the Vietnam - Switzerland Friendship Association Delegation
(Vietpeace) General Secretary of the Vietnam Union of Friendship Organizations (VUFO) Nguyen Thi Hoang Van received the delegation of the Switzerland - Vietnam Friendship Association (SVFA) , headed by Ms. Anjuska Weil, President of the SVFA, at the VUFO headquarters on April 1st.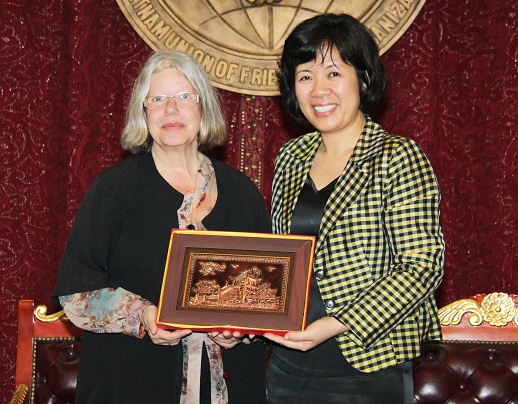 SVFA, established in 1982, has had great support for Vietnamese Agent Orange victims for years. SVFA has held many public talks at universities and schools, exhibitions and seminars in Switzerland about the bad consequences of chemical weapons and the pain suffered by many Vietnamese victims. SVFA also has many other activities to play an important part for contribution to enhance the bilateral relations between Switzerland and Vietnam.

At the meeting, General Secretary Nguyen Thi Hoang Van, on behalf of VUFO leaders, welcomed SVFA's visit to VUFO,  highly appreciated SVFA's good performance and contributions to the development of Vietnam, and expressed warmest thanks to SVFA  for what they have done for Vietnam, such as its financial and educational projects in Thua Thien - Hue province. Ms. Nguyen Thi Hoang Van hoped that SVFA continues its support for the projects in Vietnam.

SVFA's President  Ms. Anjuska Weil expressed her honor to be welcomed at VUFO's headquarters. She said the members of SVFA's delegation are really impressive to witness Vietnam's remarkable developments in recent years. She also hoped the two sides will have more cooperations, so that the relations between the two countries will further develop in political, economical, cultural and educational fields./.